COMFORTABLE 3 BEDROOM APARTMENT
THE OUTER HARBOUR IN GHENT
The varied offer of Øslo consists of 70 apartments and penthouses with 3 bedrooms. The three buildings are cleverly arranged in a U-shape, creating a large, green, enclosed interior space where residents can enjoy peace and quiet and where children can play safely.
Øslo offers its residents a wonderful sense of security and comfort and children have enough space to go out and romp around. The underground car park, with 95 parking spaces and ample bicycle storage, provides a car-free environment, which also contributes to this feeling of peace and security.
IN HARMONY WITH THE SURROUNDINGS
The three volumes of the housing concept come creatively into harmony with their surroundings. The evocative, reddish-brown brick architecture refers to the past of the Outer Harbour and more specifically to the old industrial buildings located nearby.
The robustness of this material is broken up by the high windows, which bring a lovely feeling of lightness.

The private terraces ensure privacy and calm. On the ground floor, they elegantly blend in with each other, naturally separated by high flower pots with shrubs.

Architecture: Bontinck Architecture and Engineering
Landscaping: Koen Mennes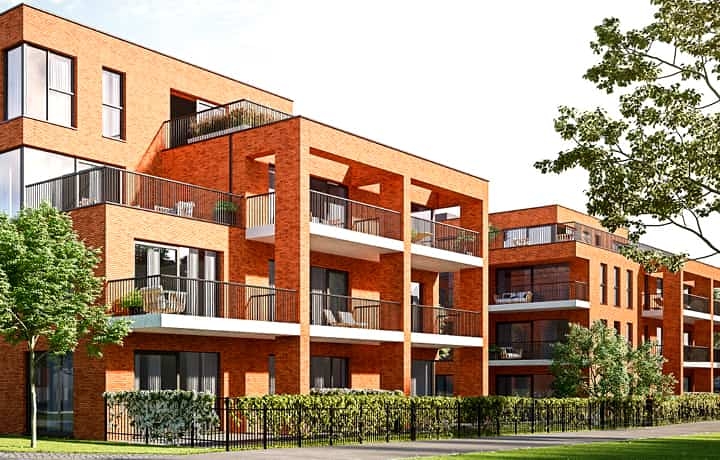 MORE INFO?
Make a personal appointment via the contact form below.
Prefer a video call? Click here here to schedule your online appointment.