29 October 2020
ROYALE BELGE - NEW STEP FOR ICONIC BUILDING
ROYALE BELGE PROJECT: APPLICATION FOR PLANNING PERMIT
An emblematic monument from 1970s in Brussels, the building of the former Royale Belge served as the headquarters of AXA Belgium until 2017, but is completely empty today. A reconversion project is now being rolled out for this magnificent and immense monofunctional building with its bronze-tinted glass and weathering steel frame, surrounded by a green estate spanning some ten hectares. This is a mixed project that will integrate a wide range of functions with due respect for the architectural heritage.
The owner, Souverain 25 (a CORES Development-Urbicoon-Foresite-Ape consortium), will soon apply to the Brussels-Capital Region for planning permit. In addition to the offices, most of which will be retained, the plans include a hotel (with a 300-seat auditorium, meeting rooms, restaurants and bar), co-working spaces, and fitness and wellness facilities.
Depending on the date the permit is issued, work can start in Q2 2021 and be completed in January 2023.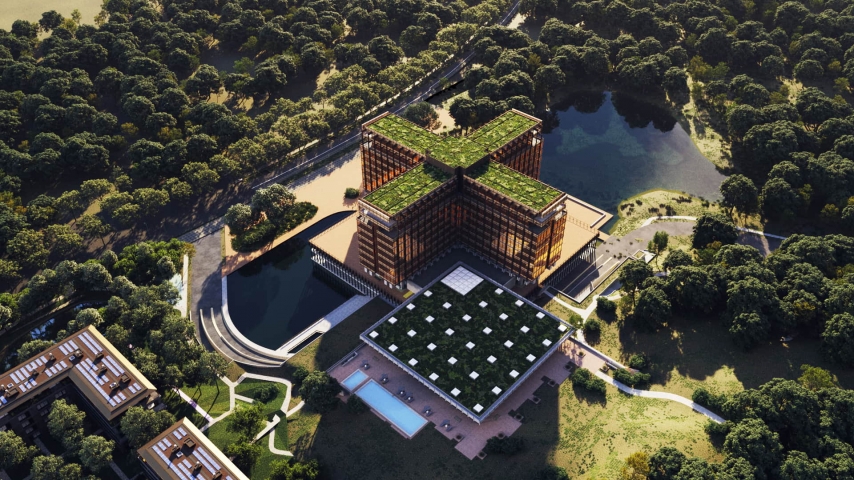 COMMITMENT AND CHALLENGE
The consortium wants to give the site a new identity as a coherent, living, emblematic and multifunctional whole. The aim is to develop inviting spaces that will enable future users to meet, work and relax.
The client called on a team of architects to develop the concept, namely: the British firm Caruso St John Architects (London) and the Belgian firm Bovenbouw Architectuur (Antwerp), plus the firms DDS+, MA2 (Francis Metzger) and EOLE (Anne-Marie Sauvat) for the heritage and landscape aspects. Together, they took a critical look at the building in order to identify the best possible potential and enable it to develop, with due account of the rich and varied natural environment also.
"Our challenge will be to reconcile the preservation of the architectural heritage with energetic, economic and ecological imperatives. Our project was conceived as a whole and not as a sum of functions. We wish to revive this emblematic building without taking anything away from its essence", says Nicolas Billen, Business Developer, CORES Development.
PROGRAMMING AND FUTURE USERS
The project will combine a number of different functions in horizontal layers, with offices, co-working facilities, a hotel (comprising rooms, restaurants and bars, an auditorium and meeting rooms), and a sports and wellness centre. The commercialization of the future spaces is already under way.
An agreement has been signed with Limited Edition Hotels for the management of the hotel rooms. The chain is known for transforming conventional hotel concepts into an innovative and refreshing offer in perfect harmony with the surroundings (Jam Hotel, Le Berger, The White Hotel, …). "We are going to operate a 212-room hotel on three levels, as well as the auditorium on the ground floor, a restaurant and a bar. This location is a perfect complement to our offer in Brussels. Our customers will also be able to use the other facilities in the building, including the wellness centre, the co-working spaces and perhaps other services. Finally, we will develop mainly a post-COVID hotel. The health crisis will force people to travel and get together differently. Our concept takes full account of this aspect too," explains Jean-Michel André of Limited Edition Hotels.
The two upper floors of the tower will be occupied by a financial institution.
This means that a user has already been found for 4,000 m². Negotiations are at an advanced stage for a total of almost 10,000 m².